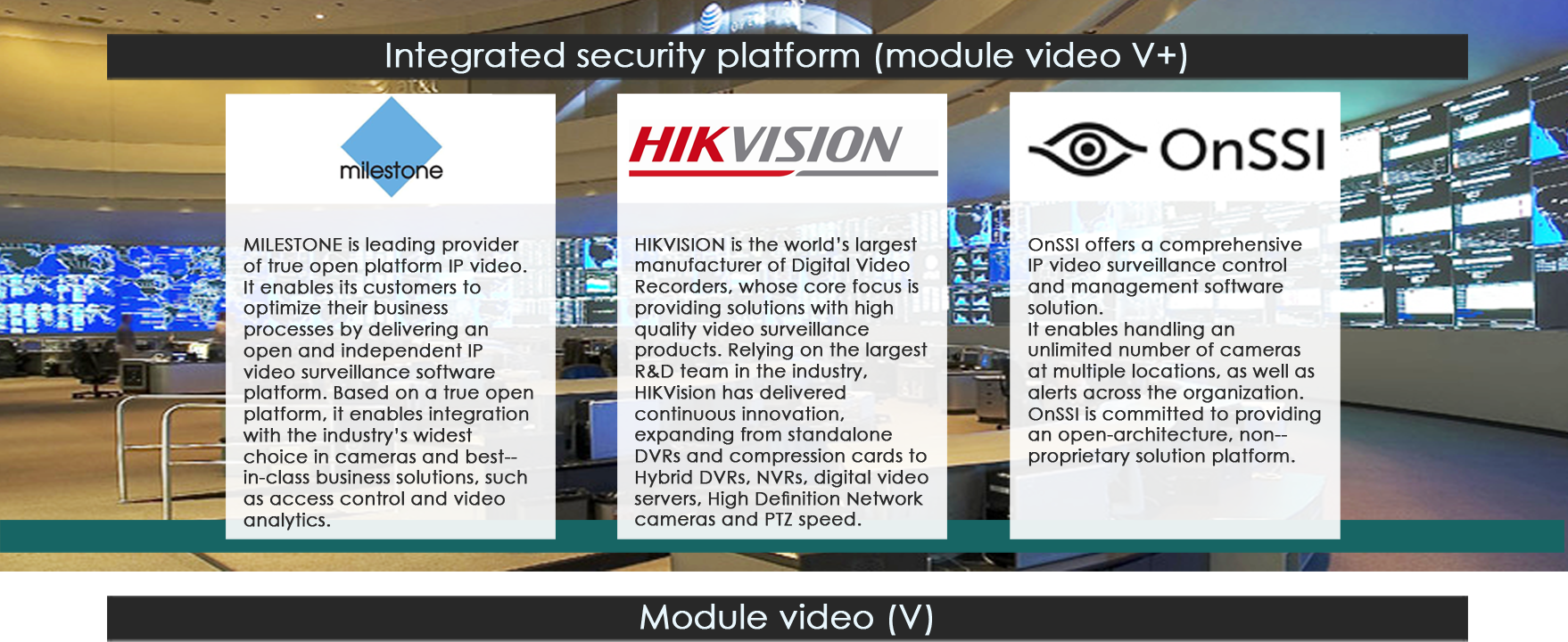 ---
AVIGILON High Definition Video Surveillance Content Management System enables the user to instantaneously identify details necessary for positive identification of events and evidence. Avigilon open software platform and megapixel cameras deliver full situational awareness and actionable image detail.
DEDICATED MICROS – part of AD Group – offers for 25 years a full line of security surveillance products including digital video recorders, remote viewing software, virtual matrix solutions, enterprise-class management tools, analytics, and analog and IP cameras.
GEOVISION is a Taiwan-based company engaged in manufacture and distribution of digital monitoring systems. The Company major products include digital monitoring systems, network monitoring video recorders, image servers, intelligent analyzing software and central monitoring software, among others.
MILESTONE is leading provider of true open platform IP video management software which optimizes business processes by delivering an open and independent IP video surveillance software platform.
OnSSI offers a comprehensive IP video surveillance control and management software solution. OnSSI combines a comprehensive video management system with physical security information management (PSIM) functionality. It enables handling an unlimited number of cameras at multiple locations. OnSSI is committed to providing an open-architecture, non-proprietary solution platform.
STIM is a French inventor and manufacturer of security video systems since 1986. STIM innovates constantly in all fields and brings security and comfort through highly reliable products.
BAXALL VIVID, the new generation of digital video recording products, combines the very best of traditional CCTV design and functionality with the latest hardware and software technology. Baxall Vivid is a combined digital video multiplexer recorder with 6, 10 and 16 camera input options with disk sizes ranging from 80GB to 1TB.
DVS GmbH has been very successful in the professional film, video post-production and broadcast markets. The specially developed and manufactured hardware and software are applied to the production of popular TV series, Hollywood blockbusters and in Digital Cinema.
GEUTEBRüCK video security systems deliver provide intelligent systems, analog, hybrid or digital for 40 years. With 200 employees in 12 subsidiaries worldwide, GEUTEBRüCK is one of the world's leading manufacturers for video security systems. The systems are scaleable and flexible with high levels of innovation, continuity and stability.
NICE Vision is a completely open, standard solution, which enhances your experience from any edge device: analog, IP or megapixel. It manages smart video recorders, encoders, decoders and video analytics.
POS-Watch, developed by Win4NET, is an industry's leading high-end DVR based on state of-the-art technologies and unprecedented quality. Exported in about 40 countries, POS-Watch enjoys its excellent reputation for high stability and reliability.
More developments are in the pipeline.
DAHUA is leading the development trend to embedded digital video recorder and is becoming No.1 brand in China. The launch of the network keyboard, speed dome, decoding card and network video server makes up Dahua's total security and surveillance structure.
DVTel is the pioneer and dominant market player in the creation, development, and delivery of Multi-source Intelligence Systems over IP networks. DVTel's innovative IP-based security solutions collect raw data from multiple sources and turn that data into actionable information.
HIKVISION is the world's largest manufacturer of Digital Video Recorders. Utilizing the largest R&D team in the industry, HIKVision has delivered continuous innovation, expanding from standalone DVRs and compression cards to Hybrid DVRs, NVRs, digital video servers, High Definition Network cameras and PTZ speed domes.
ONEVIEW SYSTEMS offers IT intensive products and solutions for Network Video based Monitoring systems and Mobile devices. Oneview offers advance technology for Video Management Software, IP Network Cameras and Mobile Solutions.
SONY offers complete video security solutions for most applications, with a lineup of HD network cameras, network encoders, recorders, displays, software and accessories. Amadeus is providing a solution for License Plate Recognition through integration with SONY's LPR camera (model XCINPR).